Posts for: October, 2017
By Carter & Eckdhal Family Dentistry, SC
October 28, 2017
Eating disorders cause more than psychological harm. The binge-purge cycle of bulimia or the self-starvation patterns of anorexia can also injure the physical body, especially the mouth.
For example, nine in ten people with bulimia will experience tooth enamel erosion from stomach acid entering the mouth from induced vomiting. Although purging is less frequent with anorexic patients, one in five will also develop erosion.
An eating disorder isn't the only reason for enamel erosion: you can have high acid levels from over-consuming sodas, energy drinks or certain foods, or not properly brushing and flossing every day. But erosion related to an eating disorder does produce a distinct pattern in the teeth. When a person vomits, the tongue moves forward and presses against the bottom teeth, which somewhat shields them from acid contact. This can create less erosion in the lower front teeth than in others.
Eating disorders can cause other oral effects. Stomach acid contact can eventually burn and damage the mouth's soft tissues. The salivary glands may become enlarged and cause puffiness along the sides of the face. The use of fingers or other objects to induce gagging can injure and redden the back of the throat, the tongue and other soft tissues.
It's important to stop or at least slow the damage as soon as possible. To do so requires both a short– and long-term strategy. In the short-term, we want to neutralize mouth acid as soon as possible after it enters the mouth, especially after purging. Rather than brushing, it's better to rinse out the mouth with water or with a little added baking soda to neutralize the acid. This will at least help reduce the potential damage to enamel.
In the long-term, though, we need to address the disorder itself for the sake of both the person's overall well-being and their oral health. You can speak with us or your family physician about options for counseling and therapy to overcome an eating disorder. You may also find it helpful to visit the website for the National Eating Disorders Association (nationaleatingdisorders.org) for information and a referral network.
If you would like more information on how eating disorders can affect health, please contact us or schedule an appointment for a consultation. You can also learn more about this topic by reading the Dear Doctor magazine article "Bulimia, Anorexia & Oral Health."
By Carter & Eckdhal Family Dentistry, SC
October 13, 2017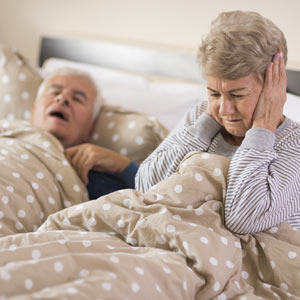 Fatigue, irritability and family complaints about snoring — all tell-tale signs you may have sleep apnea. There's more to this condition than being grouchy the next day — the long-term effect could increase your risks for life-threatening diseases.
But how do you know if you actually have sleep apnea? And if you do, what can you do about it?
Undergo an exam by a physician trained in "sleep medicine." Sleep apnea occurs when the airway becomes blocked while you sleep, dropping the body's oxygen levels; your body awakens to re-open the airway. The event may only last a few seconds, but it can occur several times a night. Even so, sleep apnea is one potential cause among others for snoring or fatigue. To know for sure if you have sleep apnea you'll need to undergo an examination by a physician trained to diagnose this condition. He or she may then refer you to a dentist to make a sleep appliance if you have mild to moderate apnea.
Determine the level of your apnea's intensity. Not all cases of sleep apnea are equal — they can range in cause and intensity from mild to advanced, the latter a reason for concern and focused intervention. Your physician may use different methods for determining the intensity of your case: review of your medical history, examining the structures within your mouth or having your sleep observed directly at a sleep lab. Getting the full picture about your sleep apnea will make it easier to develop a treatment plan.
Match the appropriate treatment to your level of sleep apnea. If you have moderate to advanced apnea, you may benefit from continuous positive airway pressure (CPAP) therapy, an electrical pump that delivers pressurized air through a mask worn while you sleep that gently forces the airway open. It's quite effective, but uncomfortable to wear for some people. Advanced cases may also require surgery to alter or remove soft tissue obstructions. If, you have mild to slightly moderate apnea, though, your dentist may have the solution: a custom-fitted mouth guard that moves the tongue, the most common airway obstruction, down and away from the back of the throat.
If you suspect you may have sleep apnea, see a trained physician for an examination. It's your first step to a good night's sleep and better overall health.
If you would like more information on sleep apnea treatments, please contact us or schedule an appointment for a consultation. You can also learn more about this topic by reading the Dear Doctor magazine article "If You Snore, You Must Read More!"