Posts for: March, 2014
By Carter & Eckdhal Family Dentistry, SC
March 18, 2014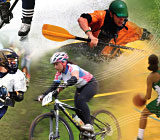 Sports are an important element in human society — besides providing enjoyment they also build discipline, teamwork and character.
But sports activities, especially for children and teenagers, also carry the risk of physical injury — and your teeth and mouth aren't immune. About 22,000 mouth injuries occur annually in individuals under the age of 18. As the degree of contact within the sport rises, so does the risk of dental injuries.
To reduce this risk, it's important to adopt a comprehensive approach to dental injuries, beginning with protection. For any sport that involves a ball, stick, puck or physical contact with another player, athletes should incorporate two pieces of equipment to fully protect against mouth injury: headgear and a mouthguard. Both help to evenly distribute the forces generated during an impact and thus reduce the chance or severity of injury.
The design of headgear will depend on other factors involving a particular sport. Mouthguards are more singular in their purpose, and so what works in one sport should work in another. While there are a number of types like stock or "boil and bite," the highest level of protection is a custom-fitted mouthguard created by a dentist to specifically fit the individual's bite. Although more costly than other options, it can better reduce the chances of an even more costly mouth injury.
Because we can only reduce the risk of injury but never eliminate it, protection is only part of the approach. Individuals, parents and sports officials should have plans in place for treating dental injuries should they occur. Depending on the level of trauma, individuals should have access to a dentist as soon as possible. It's also important to know what to do when specific injuries occur, whether they require an immediate, urgent or less urgent response. The Dear Doctor magazine article, "The Field Guide to Dental Injuries" is an excellent primer on dental injury treatment.
Sports can have a positive effect on physical, emotional and social development. Adopting a well-rounded approach to dental injury prevention and treatment will help keep the focus on those benefits.
If you would like more information on protection and treatment from sports-related dental injuries, please contact us or schedule an appointment for a consultation. You can also learn more about this topic by reading the Dear Doctor magazine article "An Introduction to Sports Injuries & Dentistry."
By Carter & Eckdhal Family Dentistry, SC
March 03, 2014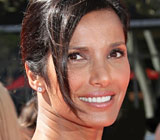 Before she began hosting the long-running TV competition Top Chef, Padma Lakshmi was a well-known model and successful cookbook author. (Appropriately, she is said to have been "discovered" by a modeling agent while sitting in a café in Madrid.) Yet the Indian-born beauty's striking look — at once exotic and familiar — doesn't come from any cookie-cutter mold.
So when Lakshmi had cosmetic work done on her teeth, early in her career, her dentist didn't use a cookie-cutter approach either: Instead, her smile was carefully designed, using small amounts of bonding material to brighten her teeth and to bring their shape and spacing into harmony with her facial features.
Dentistry by Design
What exactly is smile design — and what could it do for you? Essentially, it's the process of evaluating your smile in concert with the appearance of your entire face, and visualizing the changes — some dramatic and some subtle — that will make it really shine. Some aspects we consider include the face's shape, the proportion or "balance" of facial features, the complexion, eye and lip color and form, and the overall dimensions of the smile.
Based on dental aesthetics and clinical experience, we will probably have a number of suggestions to make on how you can improve your smile. Your input will also be very important; while some individuals prefer perfectly even teeth and a sparkling "Hollywood white" smile, others are looking for a result that's more in keeping with a "natural" look: slight irregularities in tooth shape, spacing, and even color.
There's no right or wrong answer here: Having a "perfect" smile means what's perfect for you, so it's very important for dentists and patients to communicate openly during the smile design process. But sometimes, words alone just aren't enough to convey the subtle dimensions of beauty.
The Trial Smile
Fortunately, it's now possible to preview your "perfect" smile using a number of different techniques. Advances in computer imaging make this the first step in previewing your new smile — you can see the changes before a single tooth is touched! Still, many people find that having a more concrete picture is helpful. The next step is to make a 3-D mock-up the proposed dental work on an actual model of your mouth. That way, you can see a physical representation of the final results — and even turn it around and hold it in your hands.
There's still one more way to really experience the difference cosmetic treatments can make without committing to a permanent change: the provisional restoration. Here, tooth-colored bonding material and other techniques are used to actually create the new smile — temporarily. This gives you time to "live with it," and see if the proposed changes work for you. If everything goes well with the provisional work, the permanent restoration is guaranteed to please.
So if you want holiday treats, get out the cookie cutter — but if you're looking for a smile that's uniquely yours, and one that enhances your own individual appearance… call our office and ask about a smile design consultation. You can learn more in the Dear Doctor magazine articles "Great Expectations — Perceptions in Smile Design" and "Beautiful Smiles by Design."