Posts for: January, 2014
By Carter & Eckdhal Family Dentistry, SC
January 23, 2014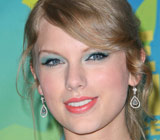 "Break a leg" is a well-known theatrical expression for wishing good luck to an actor about to go on stage. Singers should have one of their own…"Chip a tooth"! Apparently collisions between microphones and pearly whites are an occupational hazard for crooners. Taylor Swift became one of the latest casualties during a concert in Pittsburgh while belting out her hit "I Knew You Were Trouble." The consummate professional, she didn't miss a beat and kept on singing despite seeing a tooth chip hit the floor.
After all, while chipping a tooth is an inconvenience, it's not a permanent smile wrecker. Modern dentistry offers several options for restoring a damaged tooth to its original symmetry and luster, or even better!
Bonding
Dental cosmetic bonding is the quickest and lowest-cost option to repair a chip. This involves application of a composite filling material that is colored and shaped to match the original tooth. Bonding material can be used to replace the lost portion of tooth or to seamlessly reattach the lost portion if it has been preserved and is otherwise undamaged. Little to no removal of existing tooth surface is needed.
Veneers
A veneer can be used for slightly larger areas or discolored teeth. This is a thin, custom-made shell placed on the front of the tooth to give it a new "face." Some removal of existing tooth surface may be necessary to fit a veneer so it is flush with the surfaces of surrounding intact teeth.
Crowns
When a relatively large portion of the tooth is missing, a crown is often the better choice. It fully encases the visible portion of the remaining tooth above the gum line and is shaped and sized to match the original. It can be made of tooth-colored porcelain fused to metal crowns or all-ceramic (optimal for highly visible areas). A small amount of the existing tooth surface will be removed to allow the crown to fit over it.
If you would like more information about repairing a chipped tooth, please contact us or schedule an appointment for a consultation. You can also learn more about this topic by reading the Dear Doctor magazine article "Artistic Repair of Front Teeth With Composite Resin."
By Carter & Eckdhal Family Dentistry, SC
January 08, 2014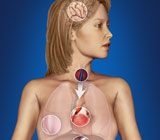 A substantial amount of research has recently pointed up the connection between oral health and systemic (whole-body) health. But recently, one study went a step further: It seems to show that having certain dental-health issues in middle age — for example, tooth loss and gum disease — could signal a deterioration in cognitive function.
Study author Gary Slade, a professor at the University of North Carolina at Chapel Hill, summed it up: "We were interested to see if people with poor dental health had relatively poorer cognitive function, which is a technical term for how well people do with memory and with managing words and numbers," he said in an interview with U.S. News and World Report. "What we found was that for every extra tooth that a person had lost or had removed, cognitive function went down a bit. The same was true [for] patients with severe gum disease."
Does this mean that losing teeth is a little like losing brain cells? Not really, because it isn't clear which condition occurred first… or even if one caused the other. For example, it could be that a poor diet is responsible for both poor dental health and a decline in cognitive ability; on the other hand, there could be a genetic link between both conditions. Or, it could simply mean that people with cognitive difficulties don't take good care of their teeth.
Still, the association is intriguing — especially because it echoes some previous studies, which indicate that systemic inflammation could be a major cause of both problems. What's the oral-systemic connection? No one is exactly sure yet, but research suggests a relationship between periodontal disease and other diseases such as heart disease, stroke and diabetes. The common link may be bacteria: The same microorganisms that cause problems in the mouth might be able to spread through the body, producing a low-grade inflammation — one that's waiting for the right conditions to burst into fire.
So, should you rush out and grab everything off the drugstore's oral health products shelf? Well, we wouldn't necessarily go that far… but here's a more sensible suggestion: Take good care of your teeth and gums. Both tooth decay and periodontal disease can cause a number of problems with your health — yet both can be treated effectively… and they're largely preventable!
If you haven't visited our office in a while, why not come in for an exam? When you do, ask us what's the best way to keep your smile looking great and feeling clean and healthy. Our goal is to help you maintain proper oral hygiene — for life. If you would like more information about oral health and systemic diseases, call our office for a consultation. You can learn more in the Dear Doctor magazine article "The Link Between Heart & Gum Diseases."