Posts for: October, 2013
By Carter & Eckdhal Family Dentistry, SC
October 30, 2013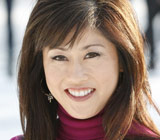 If Kristi Yamaguchi's kids inherit her figure skating ability, they might just be headed for the Olympics — after all, their mom won the gold medal for figure skating in the 1992 games. When it comes to teeth, however, she wouldn't mind if they inherited her spouse's instead. "My husband [fellow Olympian turned pro hockey player Bret Hedican] never had braces," she recently told an interviewer. "I'm hoping they get his teeth."
When you look at the elegant skating star's pearly smile, you'd never suspect she had dental problems. In fact, Kristi had four permanent teeth extracted to relieve the crowding in her mouth. She also wore braces to correct irregularities in both upper and lower teeth. Could orthodontics work the same "magic" for your kids — or yourself?
It just might. The first step toward finding out is having an orthodontic evaluation. For kids, the right time for an initial evaluation is no later than age 7. By then, the first molars are usually present and your child's bite pattern is establishing. Even though treatment may not begin for several more years, it's helpful to know what problems may arise in your child's individual situation — and to start treating them at just the right time.
Orthodontics has progressed a great deal in the two decades since Yamaguchi's braces came off. Today, small devices called palatal expanders are often used to create more space in the mouth, as an alternative to tooth extraction. There are also many new options for orthodontic appliances, in addition to standard metal braces. These include unobtrusive tooth-colored braces and lingual braces, which are applied to the tongue side of the teeth and can't be seen. In some cases, clear plastic aligners can be used instead of braces, for a look that's almost invisible.
Adolescence is often the preferred time to do orthodontic treatment. By then, the permanent teeth have mostly come in, but there's still some growing left to do. But age isn't a factor that should stop you from getting the smile you've always wanted. About one in five orthodontic patients today is an adult — and those less-visible appliances can fit in well with the more "professional" image of an older person.
Orthodontics can't help make someone an Olympic athlete — only lots of talent and practice can do that. But it can make a big difference in a person's appearance. "Once my braces came off, it was like — Wow! That looks so much nicer," Yamaguchi recollected. And today, the mother of two, author, and philanthropist sports the same appealing smile she had on the podium at the Albertville Olympic Games.
If you would like more information on how orthodontics could help you get the smile you've dreamed about, please contact us or schedule an appointment for a consultation. You can also learn more about this topic by reading the Dear Doctor magazine articles "Early Orthodontic Evaluation" and "The Magic of Orthodontics."
By Carter & Eckdhal Family Dentistry, SC
October 15, 2013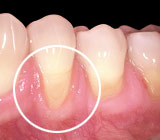 The "wear and tear" nature of gingival (gum) tissue enables it to readily handle the chewing and biting actions of eating and still perform its most important function: protecting the roots of your teeth from decay and environmental exposure. But while they're resilient, they're not invincible: it's quite possible for them to lose their attachment to a tooth and begin to recede, leaving the root surfaces exposed.
Gum recession can occur for a number of reasons: poor oral hygiene; over brushing and flossing; malocclusion (a poor bite); personal habits, like biting down on hard foreign objects; or poorly fitted dentures or other appliances. From a genetic point of view, people with thinner gingival tissues are more prone to gum recession than those with thicker tissues. Whatever the cause, the result is the same — the exposed tooth becomes more sensitive to environmental factors (such as heat, cold, abrasion or erosion). More importantly, it now has a higher susceptibility to decay and disease, leading to its possible demise.
But there may be a solution. Although the original tissue may be lost, periodontal plastic surgery can restore a protective layer of tissue to the tooth, and at the same time give you back the smile you once had.
From the Greek word "plastik" for sculpting or modeling clay, plastic surgery procedures restore both form and function to a bodily structure. While the term "plastic surgery" can apply to other procedures in medicine such as rhinoplasty or face lifts, the periodontal procedure particularly involves grafting similar tissue to an area of recession, and then "shaping" it into a natural, life-like form.
To graft means to remove tissue from a donor site and attach it to a recipient site. In the case of periodontal tissue, the recipient patient can also be the donor with the tissue coming from some other area of the same mouth (the graft can also come from another human or an animal). Using advanced techniques and a touch of artistry, the surgeon positions and sutures the graft in place.
The result: not only a new protective covering for your tooth, but a more pleasing appearance when you smile.
If you would like more information on periodontal plastic surgery, please contact us or schedule an appointment for a consultation. You can also learn more about this topic by reading the Dear Doctor magazine article "Periodontal Plastic Surgery."