Posts for: September, 2013
By Carter & Eckdhal Family Dentistry, SC
September 23, 2013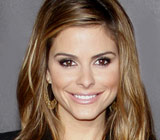 Maria Menounos, an independent filmmaker, actress, and co-host of daily entertainment news program Extra, learned at an early age about the importance of maintaining good general and dental health when her father, Constantinos, a Greek immigrant, was diagnosed with type 1 diabetes. As a result, her parents made sure the family consumed a diet filled with fresh fruits and vegetables, many of which they produced themselves. Maria and her family also consumed little-to-no junk food.
Menounos is still committed to helping those with diabetes. In fact, because she saw first hand the power of communication in the lives of diabetes patients and their families, Menounos is an avid ambassador for the American Diabetes Association.
Maria's experience with diabetes is one that she shares with millions of people worldwide. And if you or someone you care about is suffering from this disease, it's important to be aware of the connection between diabetes and oral health. Recent research has shown a link between two chronic inflammatory conditions: periodontal (gum) disease and diabetes. Evidence consistently reveals that diabetes is a risk factor for increased severity of periodontal disease and conversely, periodontitis is a risk factor for worsening blood glucose control in patients with diabetes and may also increase the risk of diabetic complications. Periodontal inflammation is also associated with an elevated systemic (general body) inflammatory state and an increased risk of major cardiovascular ("cardio" – heart; "vascular" – blood vessel) events such as heart attack, stroke, adverse pregnancy outcomes (e.g., low birth weight and preterm births) and altered blood sugar control in people with diabetes.
If you are interested in learning more about periodontal disease, you can continue reading the Dear Doctor magazine article "Diabetes & Periodontal Disease." Or, if you are diabetic and fear you may have periodontal disease, you can contact us today to schedule an appointment so that we can conduct a thorough examination. During this private consultation, we will also discuss any questions you have as well as what treatment options will be best for you. And to read the entire interview with Maria, please see the Dear Doctor magazine article "Maria Menounos."
By Carter & Eckdhal Family Dentistry, SC
September 13, 2013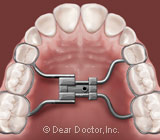 Is there a single orthodontic appliance that can help your child get a wider, better-looking smile, correct problems with the bite, make room in a crowded upper jaw for new teeth to erupt (come in)... and shorten the overall time he or she will need to wear braces? The answer is yes: It's the palatal expander, a device that works with the natural growth patterns of a child's mouth, and offers dramatic results.
What's a palatal expander? Basically, it's a custom-made orthodontic appliance that fits between the rows of back teeth at the top (roof) of the mouth, close to the palate. After it has been put in place, it can be tensioned with a special key. Because it is contained inside the mouth, it's invisible when worn — but its benefits are easy to see.
How does it work? The palatal expander takes advantage of the fact that the left and right halves of a child's upper jaw bone don't completely fuse (knit together) until sometime after puberty. Until that happens, the upper jaw is relatively soft and easy to manipulate. When tension is applied, the palatal expander gently moves the bones apart, just like braces do for teeth. Then new bone tissue naturally fills in the space.
The appliance is tightened daily for a few weeks — while spacing improves dramatically — and then it's left on for several weeks more to stabilize the expansion. The total time a child needs to wear it is generally 3-6 months. After that, a set of braces can be put on if needed. So, what's so great about a palatal expander?
For one thing, the device can correct a crossbite, which occurs when the back top teeth bite inside (instead of outside) the bottom teeth. For another, expanding the upper jaw can relieve the condition known as crowding, which happens when the jaw isn't big enough to accommodate all the teeth. A related situation — impacted teeth — occurs when a tooth that hasn't yet erupted is blocked by another tooth above it. Both these conditions formerly required tooth extraction: an invasive and sometimes complicated procedure. Both can now be remedied by a palatal expander.
But maybe the biggest plus to a youngster — where a month can seem like an age — is the prospect of having to wear braces for less time. And that alone is a good reason to smile.
If you have questions about palatal expanders, please contact us or schedule an appointment for a consultation. You can learn more in the Dear Doctor magazine articles "Palatal Expanders" and "The Magic of Orthodontics."